Here's everything you get with your At-Home Enrichment Subscription...
Comprehensive Curriculum: 5 Pillars of Social Competency
Casey's Clubhouse is a well-thought-out curriculum based in Social-Emotional Learning (SEL) research.

The structure of the curriculum begins with our Five Pillars of Social Competency: Me, Energy, Emotions, Thoughts, and Behaviors. These "pillars" provide the basis for which each of our six main skills are developed, which include: Regulation, Awareness, Determination, Problem-Solving, Confidence, and Mastery.
30 Chapters of Casey's Adventures
Casey's Adventures follows the daily life of a 4th-grade boy named Casey, and his unique and supportive band of friends. Each character experiences their own struggles and triumphs as they learn from each other about regulation, awareness, determination, problem-solving, confidence, and achieving mastery.
Casey feels like a real friend that our kids can depend on as he experiences real-life scenarios that break down social situations in an engaging and accessible way. Narrated by Laura Schneider, the creator herself, and enhanced by fun sound effects and music, your kids will look forward to tuning in to every chapter!
30 Corresponding Lesson Videos
After every chapter of Casey's Adventures, the story's important lessons are broken down to demonstrate the skills and techniques in a multitude of ways to reach all different kinds of learners.
Skills become something that kids can rely on and apply in the real world, strengthening their confidence to "handle it" when stepping into tough social situations.


30 Corresponding Homeactivities
Learning is reinforced with an engaging and thorough Homeactivity after each chapter of Casey's Adventures.
Not only does this bolster learning and growth, but it promotes kids to involve their family in their Casey's journey as a way to practice - and proudly show off - their new skills!
Plus...
Parent Support Resources
Alongside your child's 30 chapters, lessons, and homeactivites, you'll have access to your own 30 Parent Support Lessons and Activities to learn how to best support your child's learning, and how to problem-solve your way through difficult parenting moments.
As our company grows, our content will, too! We are looking forward to offering live parenting sessions and additional support in the future, all of which will be accessible through your renewable subscription!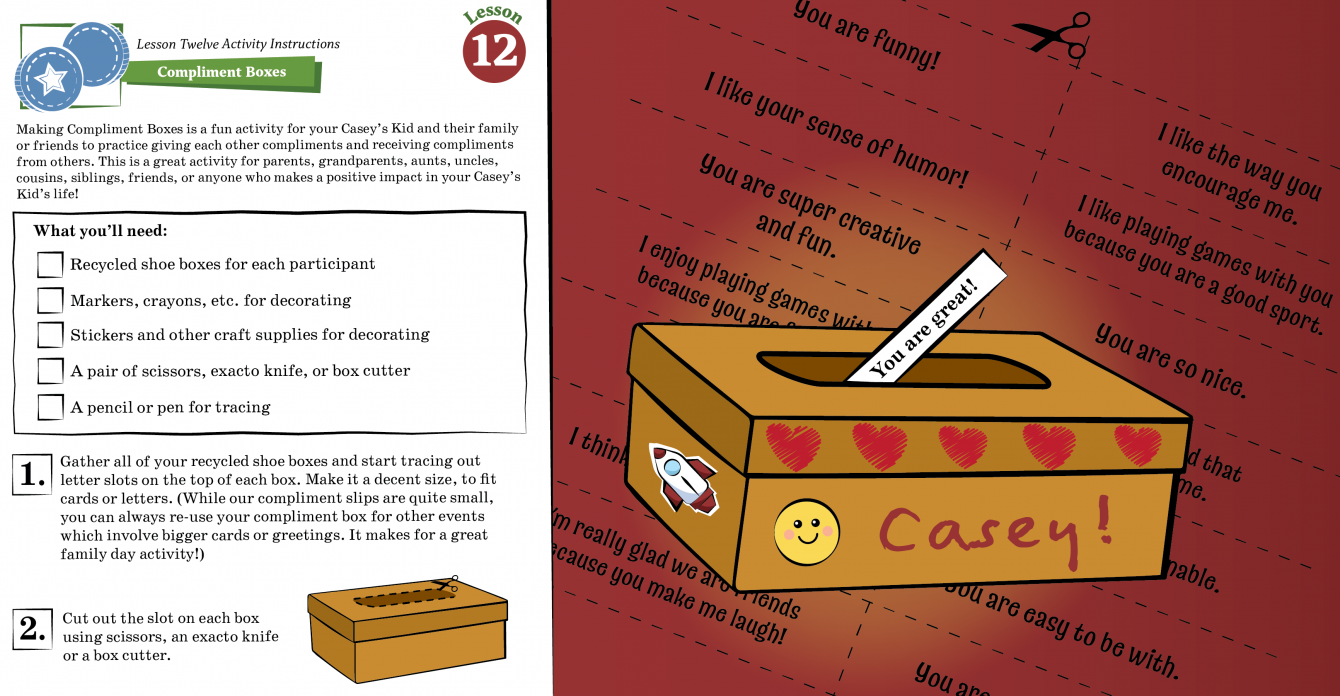 Bonus Family Activities!
Bonus at-home activities will further reinforce skills and lessons, and better yet, involve family and friends in these fun learning moments!
We have created instruction sheets and support materials to make the setup for our bonus activities worry-free and simple to implement.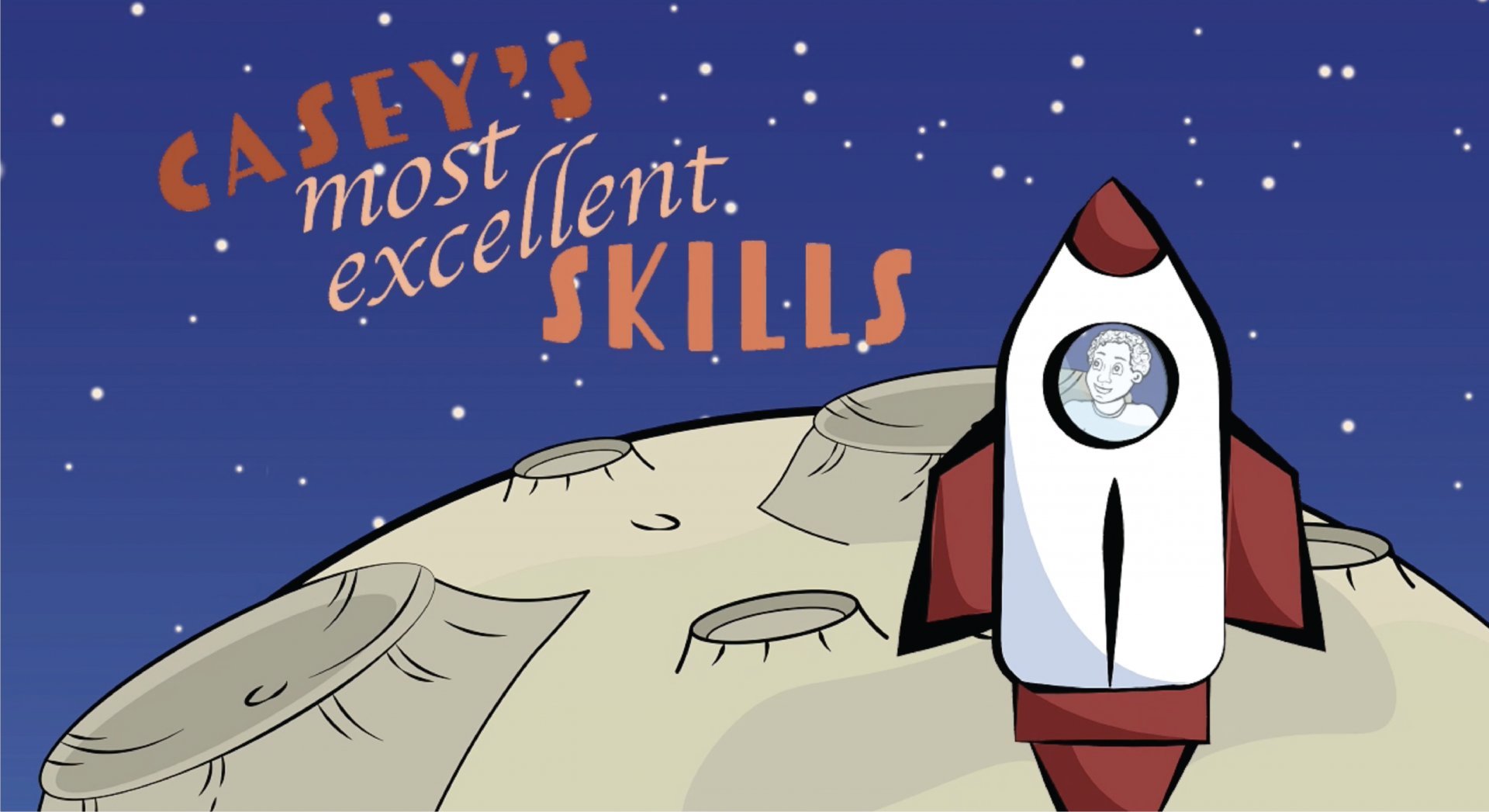 Casey's Additional Skills Content
- Coming Soon!
Our library of content is ever-growing, making your subscription something you and your child can return to again and again!
We offer segments like Casey's Moments, Casey's Most Excellent Skills, Casey's Terms, and Casey's Parent Moments as a guide to access skills quickly through short and engaging "recap" clips. You and your child can access these clips to prepare for big social events, to review and master skills and techniques, or just for fun!
https://caseys-clubhouse.learnworlds.com/bundles?bundle_id=student-add-on-membership
Send this link to your students to purchase the Discounted Student Add-On Membership.
https://caseys-clubhouse.learnworlds.com/professional-addon
Send this link to your second facilitator to purchase the free Professional Add-On Membership.
What's included in the
Casey's Clubhouse Curriculum?
The curriculum is comprised of
six
sections of learning.
In each section, you'll have access to five 15-minute Chapter videos, five corresponding Lesson videos, followed by five PDF Homeactivities for students to print and work on at home. You'll also have access to bonus content, which is ever-growing, like Casey's moments, and music videos from Bridget's BOSS Band.
What is a Student Add-On Membership?
With the purchase of a professional subscription, you will also be able to share a discounted Student Membership option with your club members, clients, or students so they can purchase and access the Casey's Clubhouse Curriculum at home through their own logins. The Student Membership Add-On is originally $101 but is discounted at $59.
What is a Student Add-On Membership?
The purchase of the School Essential Plus Classroom Subscription includes 10, 20, or 30 Student Add-On Membership codes to send to your students, so your students can access the Casey's Clubhouse Curriculum at home through their own logins.
The School Essential Classroom Subscription allows for a teacher to show the Casey's Clubhouse Curriculum to an unlimited number of students during class, and print and hand out worksheets and Homeactivities to work on at home. This Subscription does not include Student Add-On Memberships for students to access curriculum from home.
As a startup bonus, we are offering the opportunity to share a discount code to two colleagues so they can access our Professional Membership at a discount. This way, you can build a network between you and your colleagues and share experiences and tips with each other that come with using the Casey's Clubhouse curriculum.

If you don't want to share a discount with your colleagues, you are also able to save the discount code to apply towards the following year of your renewed subscription.
We don't think there's anything controversial about learning empathy, or being emotionally regulated and resilient.

In fact, we think a lot of grown-ups could benefit from some social-emotional learning.